The dog lover's kit list for the muddy months…
If you're the sort of person who loves being outdoors, the chances are your dog will be active too. Although it's harder getting outside in winter, in many ways it's more important. We all feel better after a good dog walk – as long as we don't get soaked through. The challenge is how to minimise the hassle of the work that the weather creates for wet dog owners. This is where investing in the right dog accessories for active dog lovers comes in! Wet, muddy and smelly dogs really can be managed and do not need to destroy your car and home!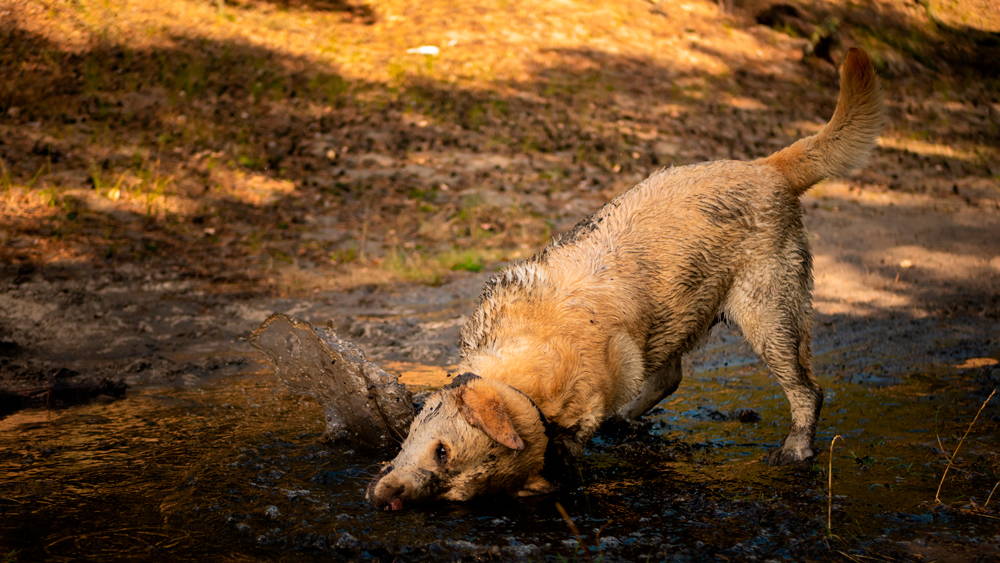 The best coats to protect you and your active muddy dog
We like the look of the The Baleno Kensington from The Longcoats Trading Company. It's long, which is practical for rainy dog walks as putting on waterproof trousers is just too much faff. A coat for all seasons, it has a detachable hood and inner fleece. It gets a gold star for its zip-able pocket too – essential for car keys. Waterproof and windproof, it's not cheap, but you get what you pay for with this coat.
At Ruff and Tumble Drying Coats, we're not massive fans of outdoor coats on dogs, but sometimes it's just too cold or your dog may be arthritic, and it's important to care for an older dog in cold weather outdoors. No coat can totally keep the mud or even all the wet off, but Dapper Dog's Wolters Ski Suit will cover the maximum area of your dog, without spoiling its enjoyment of the outdoors. Dapper Dog's Wolters Extra Strong Outdoor Jacket has a tough thick nylon outer layer, so suits active dogs who love investigating every ditch and hedge!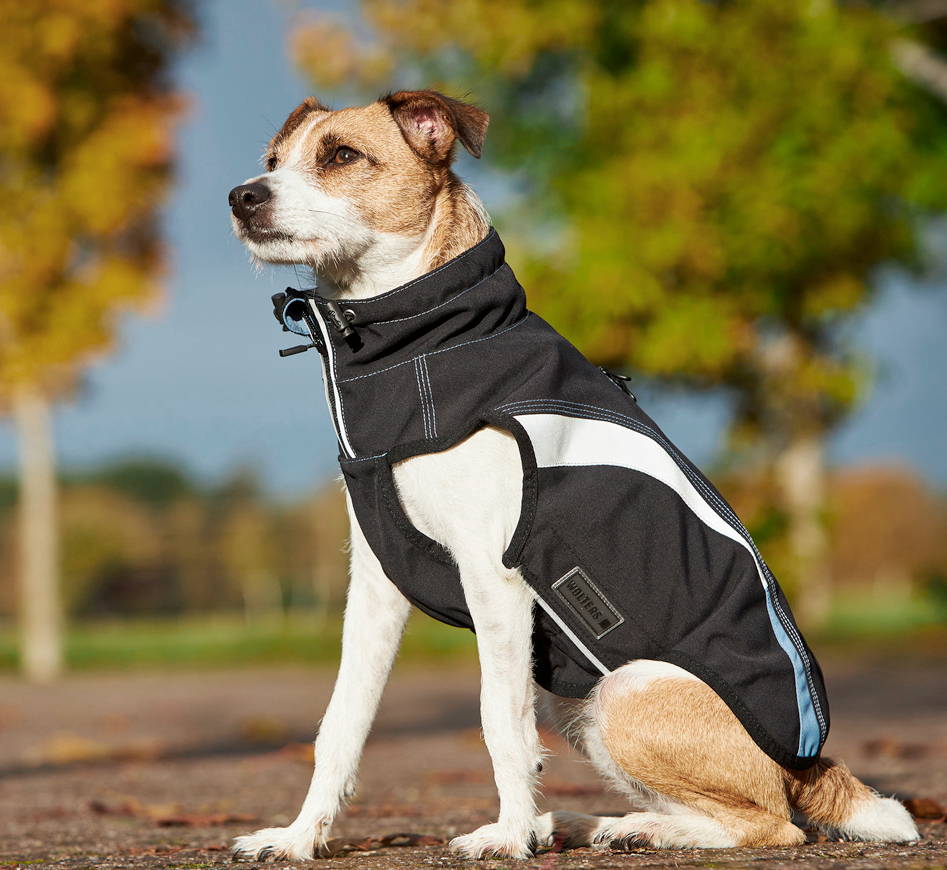 The best boots for wet muddy dog walks
Not everyone likes walking dogs in wellies. This is usually because we're put off by poorly fitting boots that rub, often with thin un-cushioned soles. Invest in a good brand and you'll find you don't even think about your feet. You'll just be glad to not have mud up your legs when you get home. You won't mind when your muddy dog jumps up on you either! Nothing beats wellies for protection and life's too short for gaiters – for a busy dog walker they're too much hassle. When it comes to comfort, we like Aigle's Adjustable Anti-Fatigue Boots. You only have to look at that cushioned sole to know it's going to be supportive on long walks with your dirty dog in tow! The Chameau Vierzon jersey lined boots look great too for wet dog walks too. They have an adjustable snap fastening gusset and are made for all weathers.
These socks are made for dog walking…
A bad sock can ruin a great boot, so it's important in a dog owner's winter kit list to include a good sock. Poor socks will be cold, cause blisters and most irritatingly of all, fall down. Based in Norfolk, (so we automatically love them as that's where R&T began), is Sealskinz and we like their Waterproof All Weather Mid Length Sock. Having a waterproof sock is a great idea as we all know water will find a way in on rainy walks with the dog.
How to dry a wet dog fast after muddy walks
If you've driven somewhere for a walk and then your dog gets soaked and cold, a towel in the back of the car is not up to the job. It's pitiful watching a dog shiver and it is not good for them. Ruff and Tumble's double layered towelling Dog Drying Coats wick wet from fur and warm and dry dogs at the same time. Dog towelling coats also reduce the wet dog smell in cars and hold in sand and mud, protecting upholstery. Use with Drying Mitts for legs and paws, and you'll find that mess is minimised and your dog is well on the way to being dry by the time you have returned home. The natural breathability of cotton means it is safe to keep the dog robe on if your dog falls asleep.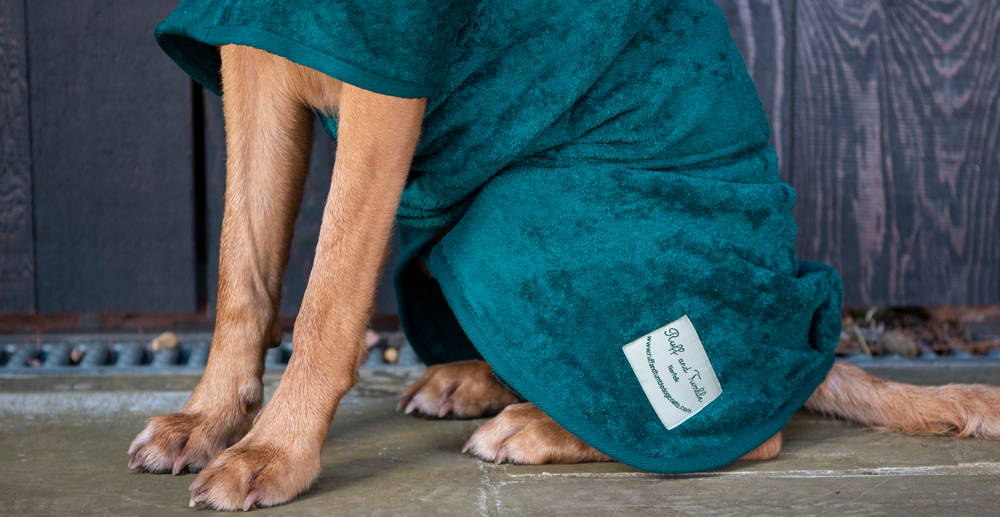 Wet dogs in the home – minimising mess and smells
As well as the essential Drying Coat and Mitts for drying wet dogs you'll find Bed Covers and Throws from Ruff and Tumble a necessity if you're outdoors with your dog in all weathers. A towelling dog Bed Cover can be washed more easily than a fancy tweed one with tough zips. With elasticated edges like a fitted sheet it is easy to remove, wash and tumble and keep constantly fresh.
It's hard to make your house feel stylish if every chair and sofa is covered in an assortment of old thin towels of varying sizes and colours. Replace all of them with one double thickness Sofa Throw. Soft and stretchy and with a natural weight, it stays in place but is easy to pop on and off and wash frequently. Brilliant at home, when visiting friends or going away on holiday, you'll find it's versatile and stylish protection is something you can rely on when you need wet dog essentials.