Whether you're staying in a dog friendly hotel, rental, tent, caravan, or motorhome, if you're taking your active dog with you, you'll need a plan! Wet, muddy and smelly dogs are harder to manage when you're not at home. The truth is that although it's lovely to have a break, it's harder being away with dogs. But do not fear, a bit of planning and preparation will ensure that you can relax and enjoy your well-deserved break – and our handy guide below does the thinking for you…
Packing the dog gear you'll need.    
Like kids, dogs need kit, and when you're in a new environment, familiarity is important. It's worth packing items both you and your dog know and trust. Here's a handy checklist:
Dog bed and Ruff and Tumble Bed Cover. All that extra time outside on holiday means more wet and muddy dogs inside, so protect your dog's bed from damp and dirt.
Ruff and Tumble Drying Coat. Some dog friendly hotels stock/sell our coats, (see lists of companies we work with below), and if you're in a rental or camping, our Coats and Ruff and Tumble Drying Mitts will be invaluable. The double layer of towelling keeps musty dog smells locked in and the generous coverage ensures protection of furniture from wet and hairy dogs. The UK can be chilly, even in summer, so your wet dog will be warm after sea and river dips.
Water and food bowls – including travel versions for walks – because we all walk more on holiday.
Take a couple of Ruff and Tumble Throws with you to cover sofas, beds and armchairs. Some cottage companies, even if 'dog friendly', won't expect hair and mud on beds and sofas.
Take leads, treats, poo bags, medicines and food. Extra's like a first aid kit, paw balm and a tick remover, are useful too. Check your dog has their ID tag on their collar. Pop a spare Ruff and Tumble Lead in your glove box because we can guarantee you'll forget the dog lead on a day out and be glad you stored a spare…
Even if you don't normally use an extending dog lead you may wish to pack one as when away in unfamiliar places we tend to keep dogs on clip or slip leads more, and an extending lead allows your dog to explore a bigger area.
A floating toy such as Dapper Dog's Aqua Fun Gym Toy can be fun if you're beach/river bound and a comfort plush toy will be reassuring for your dog in a new environment.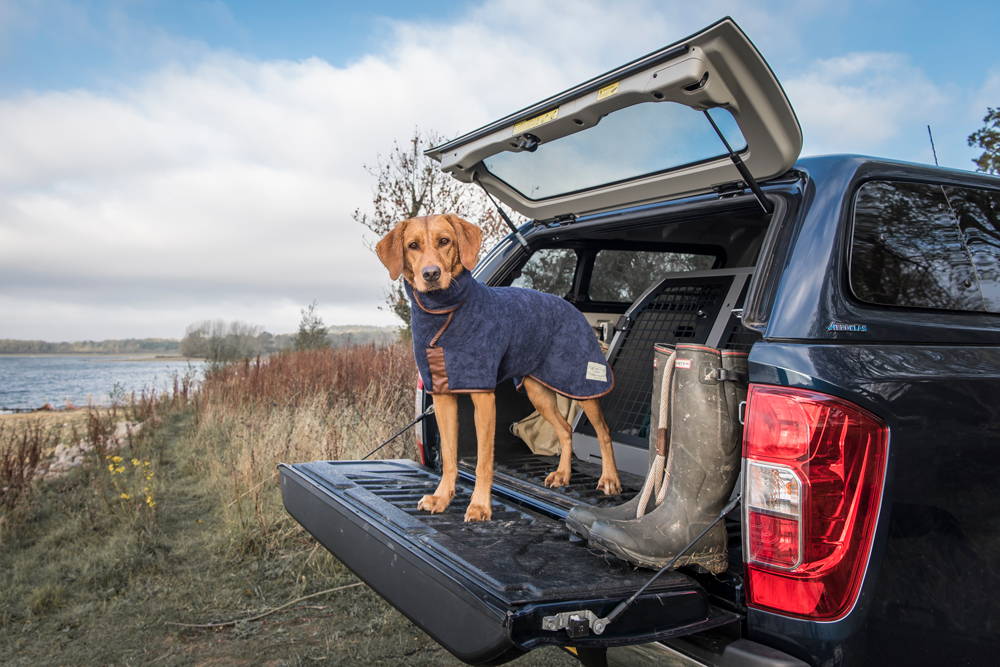 On the road with your dog
A roomy cage is brilliant if travelling long distances. Safe, secure and comfy for the dog, they are worth the investment. Use a thick cotton towelling Ruff and Tumble Dog Bed Cover in the car for extra comfort for the dog on the journey.
If you don't have a cage, secure your dog with a good seat belt clipped onto a harness such as the ones Liv and Suzie at Ruff and Tumble use, Bunty. Check airbag position and avoid/switch off.
Some motorway stops are better than others, so check your route and plan breaks about every two hours. We're fans of the Gloucester Services on the M5 if you're Cornwall bound, because they have a designated dog walk on grass. It's not hard to google 'Best dog friendly services' and find great features like this one in The Guardian and then plan your stops accordingly.
You'll need a few key items on your journey for your dog, so pack a travel bag that's easy to grab, containing water, bowls, food and poo bags.
Safety and protection tips when you arrive
As soon as you arrive, if you are in a cottage with a garden, check the gates and fences and the cottage for wires and cables that might be appealing.
Your dog will be excited and unsettled initially so pop down their bed and a toy so they can smell something familiar.
'Dog proof' the cottage with Ruff and Tumble products: Throws on beds and sofas, (if the cottage company rules allow dogs on sofas and beds!), Bed Covers on dog beds and Mitts and Drying Coats hung up by the back door.
For peace of mind, google the nearest vet and keep the number on you.
Make your days out work round the dog because they'll be with you most of the time when you are away. Dog friendly beaches, cafes, pubs and livestock/sheep free walks are all more important when we are away, so a bit of research beforehand means an easier and happier day out for all.
Keep a travel bag just for the dog for days out so you remember to take all the key items – especially your Ruff and Tumble Drying Coat when you are off to the beach! And a spare 'for best' for the pub of course…
Dog Friendly Hotels in the UK where you can buy/use Ruff and Tumble Drying Coats:
Other Dog Friendly Companies we have partnered with: