With lighter evenings and the sun higher in the sky, the inside of the house is more visible in all it's glory…or not! It's a lovely feeling on a spring day to fling the windows wide, prop the doors open and release your inner Mrs Hinch. With the radio on full blast cleaning can almost be enjoyable! Dog owners know the price of not keeping on top of cleaning because the truth is that dogs make mess. But, with the combination of the right tools, products and routines, it is easier to be in control than you think.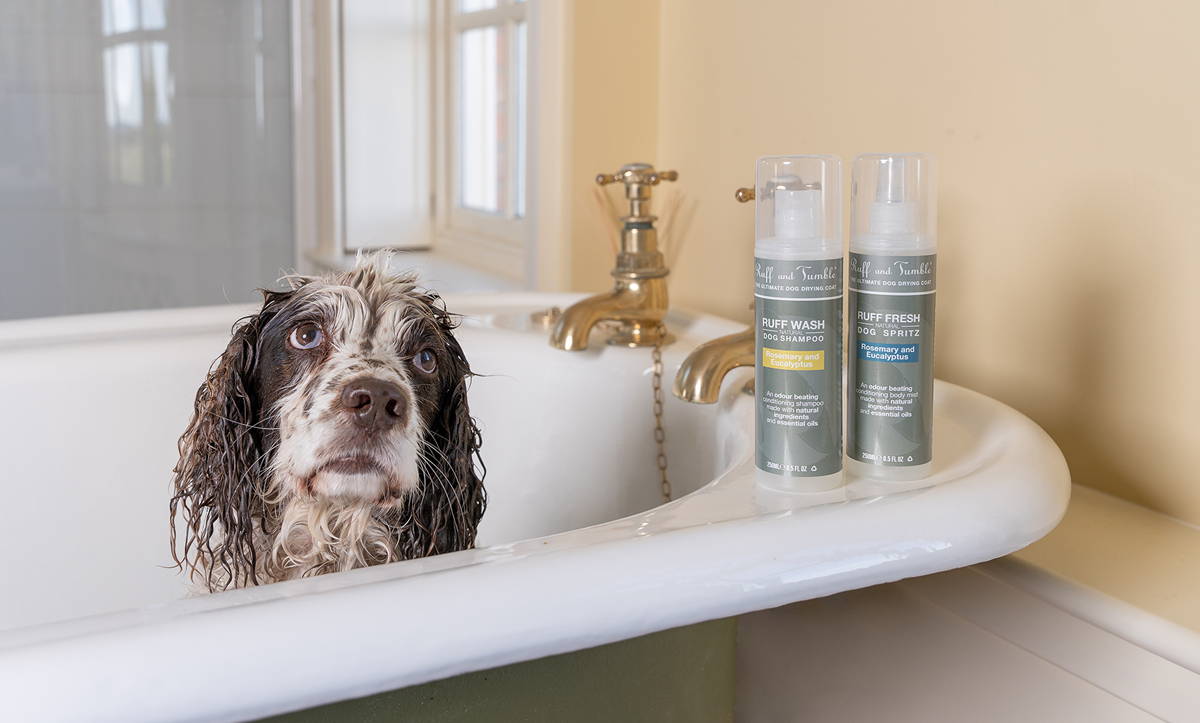 1 - How to clean and care for dogs
Regular weekly brushing outside will reduce the hair in the house and improve the condition of the dog's coat. It's especially important to do this before a bath. Don't forget to put the fur outside for the birds building nests – it's fun to see them collecting it. Regular brushing is an opportunity for a general check of their body, ears and teeth. Having a routine of checking means you are more likely to pick up any problems early.
- Cleaning muddy dogs after walks
A warm shower attachment outside is the easiest way to wash mud and sand off your dog after a walk. Cold showers can be a little brutal in winter for older and arthritic dogs. Cleaning with warm water is quicker and easier for you, as dogs won't run away! Paws attract mud and grit so trim hair short between pads to avoid painful matting.   When your dog is clean, and after a quick rub down with a towel, pop on a Ruff and Tumble Drying Coat and use Ruff and Tumble Mitts to dry the paws and legs. Owning a Drying Coat means no more damp and smelly dog in the home. Dogs can walk around the house, eat and sleep as they dry in their drying robes, leaving you free to do other jobs. Made of natural cotton towelling in two layers, Ruff and Tumble Drying Coats for wet dogs wick wet from fur, leaving your dog completely dry.
- Bathing smelly dogs
If you can't afford or be bothered to take your dog to the groomers regularly, you'll be bathing the dog yourself. Try the specially formulated odour beating Ruff Fresh Shampoo which is especially suitable for dogs who like to roll in anything smelly. It's gentle and natural so you don't need to worry if your dog has sensitive skin. Use Drying Coats after baths, they work like dog dressing gowns and can be left on your dog until it is totally dry.
2 - Is the dog bed a problem?
Dogs spend a lot of time in their beds. On average we pop clean sheets on human beds every 1-2 weeks, and we aren't muddy and don't slobber in them either! It is possible to combine practicality and style with easy to remove toppers like those on the HiK9 and Omlet beds. If it's not the right time to invest in a new bed, you can rejuvenate your current dog bed with a Ruff and Tumble Bed Cover. Like fitted sheets, they have elasticated edges, so cling on to most shapes and sizes of beds. Made of thick natural cotton towelling, they are soft and comfy but very easy to remove and wash. A wet and muddy dog who makes it to the dog bed before you can wash him down, is not so much of a problem with Bed Covers and removable toppers.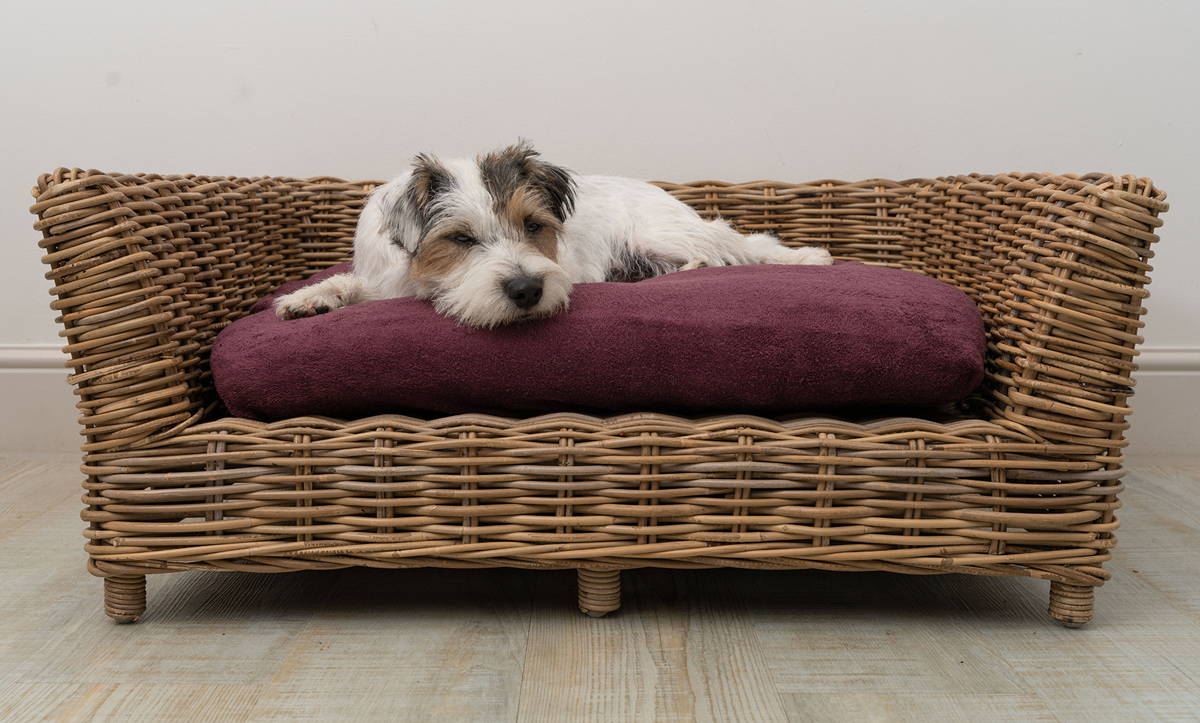 3 - The go-to cleaning kit or dog owners
It's inevitable that dogs will stain carpets and furniture, so a good stain remover is a must, such as Dr Beckmann's which is specially formulated for pets and can be used in the home and car. Neutradol's Sniff and Purr is handy for deodorising carpets and rooms that are whiffy and Ruff and Tumble's Ruff Fresh Conditioning spray is handy for a whiffy dog or dog bed if you have an unexpected visitor.
4 - Is your Vacuum Cleaner up to the job?
Dogs have their favourite spots on chairs, sofas and carpets and over time these can get matted with fur and also dirty. Hair gets everywhere and the suction power of a vacuum cleaner is the key function when it comes to pets. Henry, Bissell and Shark all make powerful vacuums especially designed for dealing with pet hair. A wet cloth over a sofa is also excellent at gathering hair and using rubber soled trainers are excellent at gathering hair in hard-to-reach corners!
5 - Protect chairs and sofas
The phrase 'start as you mean to go on' is relevant when it comes to how you feel about dogs and furniture. If you love cuddling the dogs wherever you are, you'll want to protect your home. Much as we love our dogs, it is annoying when you've just put new sheets on your bed and seconds later there are paw prints on it. Ruff and Tumble Throws are particularly effective because they are made of double thickness soft and stretchy towelling. In contemporary colours and generous in size, they are stylish and practical too. Being heavier and stretchier than towels and blankets, they stay put, and are big enough to cover a whole sofa.